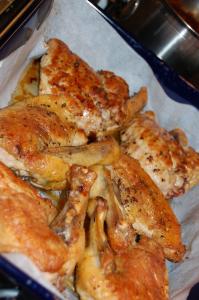 Outrageous Oven-Fried Chicken
Ingredients:
1 package herb stuffing mix, crushed
⅔ cup grated parmesan cheese
¼ cup parsley flakes
¼ teaspoon garlic powder
2½ to 3 pounds chicken pieces
¼ cup melted butter
Procedure:
Combine stuffing mix, parmesan cheese, parsley, and garlic powder; set aside.
Skin the chicken.
Rinse chicken.; pat dry.
Brush each piece of chicken with butter and roll in the stuffing mixture.
Place chicken in greased or buttered 9x13-inch baking pan with chicken not touching sides.
Bake uncovered in a 375° F oven for 45-55 minutes or until juices run clear.
Do not turn chicken while baking.